Recommended Global EEE & Engineering Conferences
Asia Pacific & Middle East
3D Printing 2019
About Conference
About 3D Printing Conference
Printing technology has been evolved as an interim field science and has witness a huge market potential in establishing a new business module in the field of construction, designing, automobile engineering, architecture and more. With the advent of latest technologies being integrated with huge production demands the research and development is significant and to signify the research process involved in 3D Printing & Technology.
"3rd International Conference & Expo on 3D Printing Technology & Innovations" during March 25-26, 2019 in Rome at Italy, which includes prompt keynote presentations, Oral talks, Poster presentations and Exhibitions.
3D printing also known as Additive manufacturing. It turns digital 3D models into solid objects by building them up in layers. The technology was first invented in the 1980s, and since that time has been used for rapid prototyping (RP). However, in the last few years, 3D printing has additionally started to evolve into a next-generation manufacturing technology that has the potential to allow the local, on-demand production of final products or parts thereof. This technology is used in the fields of jewellery, footwear, industrial design, architecture, engineering and construction (AEC), automotive, aerospace, dental and medical industries, education, geographic information systems, civil engineering, and many others.
Who should attend 3D Printing Conference 2019?
Conferences and meetings is the only platform we can learn and exchange the knowledge. Scientists, Engineers, Directors of companies, Researches from different parts of the world come and meet at one place to share views, exchange knowledge and establish research collaborations & networking in the field of 3D Printing Technology & Innovations.
Target Audience for the 3D Printing Technology & Innovations Conference:
Research Scientists
Students
Academic Faculty
Design Engineers
Mechanical engineers
Industrial engineers
Aerospace engineers
Architects
Industrialists
Business Entrepreneurs
Manufacturing Devices Companies
Why to attend 3D Printing Conference 2019?
3D Printing Conference 2019, London, brings an Opportunity to attend the presentations delivered by eminent scientists, researchers, experts from all over the world and Participation in sessions on specific topics on which the conference is expected to achieve progress. It brings Global networking in transferring and exchanging Ideas. Share your excitement in promoting new ideas, developments and innovations in the field of 3D Printing Technology & Innovations.
At 3D Printing 2019, you'll have the opportunity to engage with the most prominent professionals in 3D Printing Technology & Innovations from across the world
Full spectrum of 3D printing processes and materials.
3D Printing 2019 is the leading B2B trade show for the 3D printing industry. As an attendee, you'll explore the business applications of 3D printing through our conference sessions, hear keynote presentations from industry influencers, add valuable contacts to your network, and watch the latest 3D printers and services in action.
For More details about the Conference Kindly contact Program Manager
Market Analysis
3D Printing an Unexpected Technology where architects get Shocked…!
3D Printing -2019 welcomes attendees, presenters, and exhibitors from all over the world to Rome, Italy. We are pleased to welcome all of you to attend and register for the "3rd International Conference on 3D printing Technology & Innovations" (3D Printing -2019) which is going to be held during March 25-26, 2019 in London, UK.
3D Printing- 2019 is an International Conference focusing on sustainability concept implemented in design and construction of 3D materials in industries. It also discusses various advantages and innovations in all sectors. We welcome you to join along with us at the 3D Printing -2019, where you will make sure to have a significant involvement with researchers from around the globe. All the individuals of 3D Printing-2019 organizing committee look forward to meet you in Rome, Italy.
Scope and Importance:
It is estimated that the overall market for 3D printing will have developed to around 15.9 billion dollars before the end of 2016. The 3D printing business sector is relied upon to achieve USD 30.19 Billion by 2022, developing at a CAGR of 28.5% somewhere around 2016 and 2022. As indicated by the IDC experts, worldwide incomes for the 3D printing business sector will detonate to a gigantic $35.4 billion by the year 2020. With 2016 revenue it is anticipated that it would reach $15.9 billion that implies the business will be doubled in the following five years. Generally speaking the compound yearly development rate for the worldwide market amid their 2015 through 2020 estimate period is an amazing 24.1%.The world 3D printing market has been sectioned in view of segment, application and geology. In view of part, the market is characterized into innovation, material and administrations. Worldwide market for 3D printing material incorporates polymers, metals and earthenware production. Also, 3D printing offers a wide exhibit of uses in different enterprises, namely consumer products, industrial products, defence & aerospace, automotive, healthcare, education & research and others.
3D Printing Revenue by Industry Breakdown (by 2020)
Market Growth of 3D Printing in the last and upcoming ten years
3D printing materials have impressive growth in Middle East regions. Various 3D printing manufacturing companies have witnessed setting-up in the Middle East regions during the last few years. It's showing that the trend is likely to continue over the next 10 years with the availability of low cost raw materials along with increasing manufacturing output in these regions.
Middle East 3D Printing Materials market value is anticipated to expand at a CAGR of 16.7% during the forecast period and along with that the Middle East 3D printing materials market volume is expected to register a CAGR of 11.2% during the forecast period.
3D Printing growth by next 5-10 years in worldwide in Billions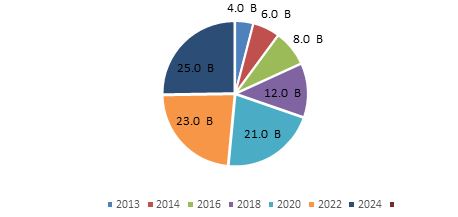 3D Printing Market Value by next 10 years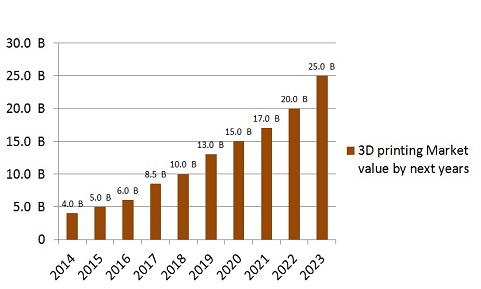 Universities Associated with 3D printing
Harvard's School of Engineering and Applied Sciences, USA
Princeton University, USA
Cornell University, USA
Wyss Institute for Biologically Inspired Engineering, USA
Nanyang Technological University, Singapore
University of Connecticut, USA
Penn State University, USA
North Carolina State University, USA
University of Sheffield, UK
University of Nottingham, UK
Western Carolina University, USA
University of Iowa, USA
University of Northern Iowa, USA
Iowa State University, USA
University of Exeter, UK
Industries Associated with 3D Printing
USA
3D Systems – Rock Hill, South Carolina, USA
AutoDesk – San Rafael, California, USA
Airwolf 3D – Costa Mesa, California, USA
Aleph Objects – Loveland, Colorado, USA
Formlabs – Somerville, Massachusetts, USA
Fusion3 – Greensboro, North Carolina, USA
Hyrel 3D – Norcross, Georgia, USA
M3D – Fulton, Maryland, USA
MakerBot Industries – New York City, New York, USA
Robo3D – San Diego, California, USA
Sciaky, Inc. – Chicago, Illinois, USA
Solidoodle – New York City, New York, USA
Stratasys – Minneapolis, Minnesota, US
Other Countries:
Ultimaker – Geldermalsen, Netherlands
Velleman – Belgium
Voxeljet – Friedberg, Germany
Zortrax – Olsztyn, Poland
ZYYX 3D Printer - Gothenburg, Sweden
Aurora Technology - Shenzhen, China
Carima – Seoul, Korea
envisionTEC – Gladbeck, Germany
Kikai Labs - Buenos Aires, Argentina
Materialise NV – Leuven, Belgium
List of Software used in 3D Printing:
Cura
CraftWare
123D Catch
3D Slash
TinkerCAD
3DTin
Sculptris
ViewSTL
Netfabb Basic
Repetier
FreeCAD
SketchUp
3D-Tool Free Viewer
Meshfix
Simplify3D
Slic3r
Blender
MeshLab
Meshmixer
OctoPrint
Medical Devices with 3D Printing Technology:
Instrumentation
Dentures
Mouth Devices
High-quality 3D scanners
Implants
External prostheses
To Collaborate Scientific Professionals around the World
Conference Date March 25-26, 2019
For Sponsors & Exhibitors